Main content starts here, tab to start navigating
Jake Cake
Tahini-Swirled Cheesecake by Jake Cohen

"I grew up making trips to Junior's for cheesecake with my grandmother Marilyn, planting the seeds for my love of dense New York–style cheesecake. That love never faded: When I was working at Daniel, I'd gather friends from culinary school, scattered around the city, at the Junior's in Times Square for communal slices around midnight after our shifts. Luckily, I found myself a man who enjoys cheesecake as much as I do, and who even supports me when I play around with the flavors, like I do in this mash-up of cultures. A combo of tahini blended into the batter and swirled on top adds
richness to the already decadent dessert, and pairing it with a hint of cinnamon amps up the warmth. Wrapped up in a graham cracker crust, it's a fun Middle Eastern spin on a New York classic. But the same cheesecake rules apply! Use a water bath to cook it low and slow before letting it cool completely. Then chill it overnight to ensure it fully sets so you get those super-clean slices. If you're in a time crunch, go wild and break the rules—it will still be delicious."
- Excerpted from Jake Cohen's new book, JEW-ISH: A COOKBOOK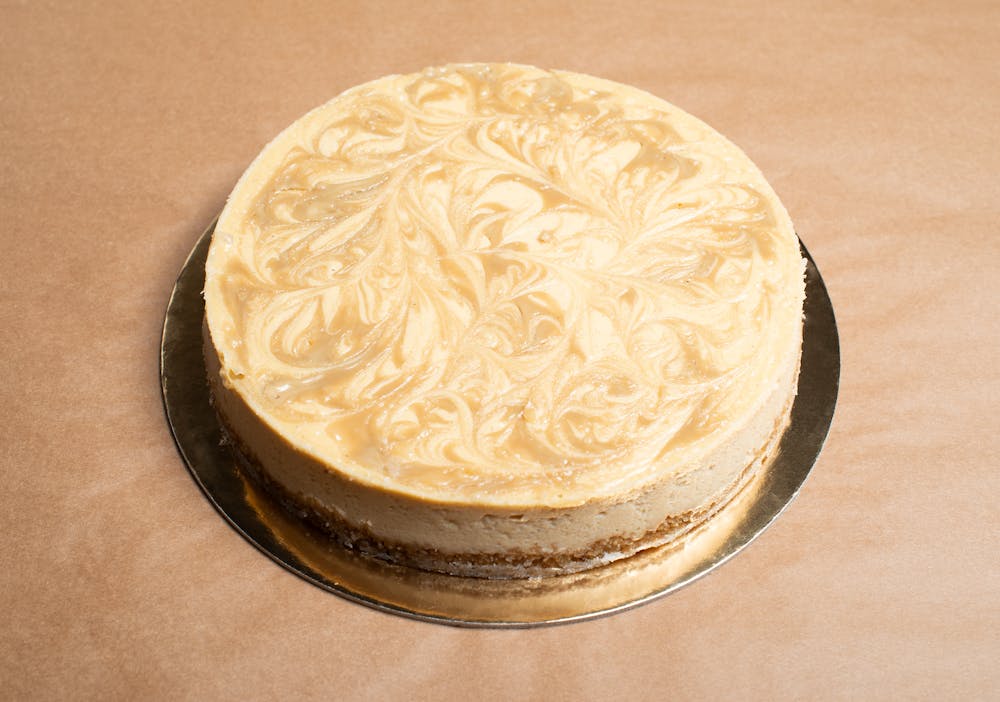 Ingredients
Makes 1 cheesecake (serves 8-10)
For the Crust
1½ cups graham cracker crumbs (from about 9 sheets)
4 ounces (1 stick) unsalted butter, cubed
1 teaspoon ground cinnamon
½ teaspoon kosher salt

For the Filling
4 (8-ounce) packages full-fat cream cheese, at room temperature
1 cup packed (200g) light brown sugar
¾ cup tahini
¼ cup full-fat sour cream
1 teaspoon vanilla extract
1 teaspoon kosher salt
½ teaspoon ground cinnamon
4 large eggs


Suggested Equipment
• food processor
• 9" springform pan
• stand mixer fitted with paddle attachment
• rubber spatula, for scraping
• aluminum foil
• roasting pan
• butter knife
• kettle or small saucepan
Process
Preheat the oven to 350°F.


For the crust: In a food processor, combine the graham cracker crumbs, butter, cinnamon, and salt and pulse until well incorporated. Transfer the crumb mixture to a 9-inch springform pan, pressing it evenly over the bottom and 1 inch up the sides of the pan.

Bake for 15 minutes, until golden, then let cool.


For the filling: In the bowl of a stand mixer fitted with the paddle attachment, combine the cream cheese, brown sugar, 6 tablespoons of the tahini, the sour cream, vanilla, salt, and cinnamon. Mix on medium speed until smooth. With the mixer running, add the eggs one at a time and mix, stopping to scrape the sides of the bowl as needed, until completely smooth.


Wrap the bottom of the cooled springform pan with two large sheets of aluminum foil to completely cover the outside and place in a roasting pan. Pour the cream cheese mixture over the crust. Drizzle the remaining 6 tablespoons tahini over the top and, using a knife, swirl it into the batter.


Boil a kettle or small saucepan of water. Place the roasting pan on the middle rack of the oven, then pour boiling water into the roasting pan to come 1 inch up the outside of the foil wrapped springform pan.


Bake for 1 hour 15 minutes, until the cheesecake is just set with only a slight jiggle when gently shaken.

Remove the springform pan from the water-filled roasting pan and let cool completely. Cover the cheesecake and refrigerate overnight.


The next day, let the cheesecake come to room temperature, then remove the springform ring, slice, and serve.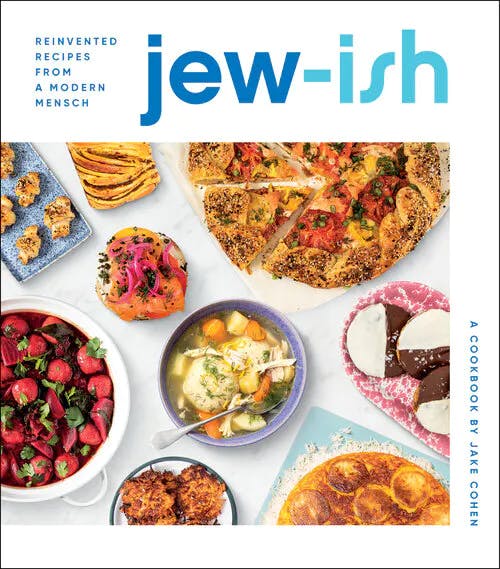 Get your copy of
JEW-ISH: A COOKBOOK